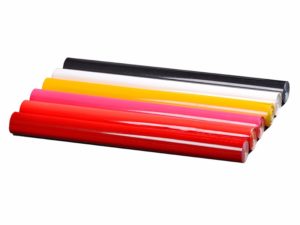 Model Airplane wing covering lamination
Solar-Film is an Iron-on self-adhesive plastic lamination film (polypropylene) ultralight for lightweight models. Solar-Film is the lightest weight lamination film in the market at only 20 grams per sq meter. (0.6 ounces per square yard)
Solar-Film has an Iron-on self-adhesive on one side providing the ease of application on your model airplane an ease with a heat iron. This film is perfect for smaller and lightest weight model aircraft.
MODEL TYPE.
For indoor models, park flyers, foam airplanes, balsa airplanes
APPLICATION.
Iron-on and then heat shrink. Very easy to apply with excellent shrinkage. Iron temp from 80°c to a maximum of 120°c
use low heat for less shrinkage, more heat for more shrinkage.
SIZE.
Length 27″ x Width 15″
( this size is enough to cover your Feather² Squared glider wings )
( This size is enough to cover your FireFly 2.0 wings top only )
( size 8.5″ x 26″ for your Micro Owl wings top and bottom + your choice of another color for trim/decals)
( This film is no longer in production, Limited quantity of Solar-Film will be in stock )
COLORS.
12 colors in stock
( black, white, midnight blue, military green, transparent green, transparent red, transparent orange, vivid red, Ferrari orange, cream, metallic silver, see through clear )
To cover the wings of your glider, a heat iron can be used. Mini heat irons work best with variable heat adjustment. Few brand names to choose from that may be purchased from ebay or amazon are:
Clover Mini iron ii
Mini plancha para patch
Mini-Bügeleisen MB-3415
Ming Yang sealing tool
Large heat iron/sealing iron will work as well, make sure to use low heat. Both irons must have cloth sock on head to prevent iron from sticking to lamination film. Regular cotton sock can be used.
For smaller projects, it is best to use a heat iron with a smaller head such as shown on the left. Although bigger heat iron can be used for smaller applications, we recommend the smaller head.