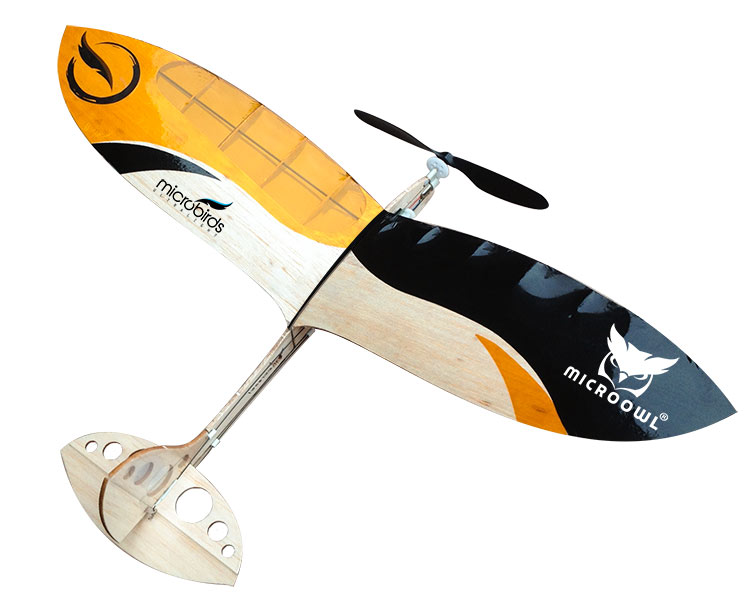 Micro Owl – RC AirPlane Ultralight Ultrasmall Ultrafun

Translating nature's strategies into design resulting in maximum air time with slow graceful long flights.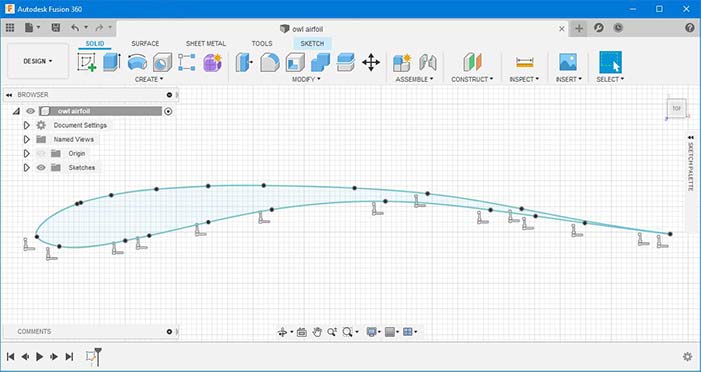 To walk a Zen path is to do everything with grace. Micro Owl offers just this, providing an ultra slow and graceful flight giving you that space between you and your body, between you and your mind. ( flowstate )
Birds of prey primarily control flight by pivoting and articulating the shape and direction of their wings and tail. The wing geometry of owls in particular is characterized by complex variation in parameters such as camber, twist, sweep and dihedral. With massive under camber and wing area, the owl like airfoil has high lift performance with a nonlinear lift increase due to the presence of a separation bubble on the suction side. "Compared with a conventional symmetric airfoil such as the NACA0012 airfoil, the owl airfoil has a much higher lift performance at Re = 23,000 with a non-linear lift increase from α = 4 deg to α = 6 deg due to the formation of the separation bubble on the suction side." Owl airfoil has been extensively studied at Interdisciplinary Graduate School of Engineering Sciences, Kyushu University in Fukuoka Japan. Click  here to read the full Analysis of Owl-like Airfoil Aerodynamics at Low Reynolds Number Flow.
Owls in comparison to other raptors have large wings relative to their body mass and thicker airfoil with massive under chamber along the inner root chord (greater and median secondary coverts), which allows them to fly unusually slowly. With such massive under chamber airfoil design, the wings act similar to flaps on an aircraft.  When your wing has a higher camber, it also has a higher lift coefficient, meaning it can produce more lift at a given angle-of-attack.
Although we cannot mimic such dynamic wing articulation in flight with radio control airplanes, the integration of the owls airfoil has been successfully achieved with the design of the Micro Owl. With over 10 minutes of flight on a single battery charge providing only 1/4th throttle for flight, the micro owls design truly flies with little effort with incredible slow speeds. Full throttle input will accelerate the owl sky high with virtually unlimited vertical climb. Climb high, cut throttle and enjoy an ultra slow glide back to earth with full control.
Taking elegant ultraslow flights with the Micro Owl is truly a peaceful experience.  Studying Barn Owls for many years and their graceful slow flying characteristics has lead my passion and love of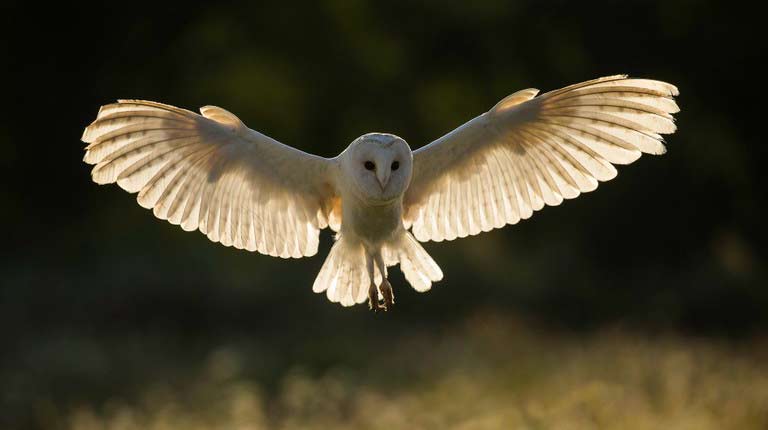 owls into designing the Micro Owl.
Ultralight weight of 24 grams, Micro Owl is laser cut using contest balsa wood and carbon fiber for structural strength. Virtually indestructible due to its light weight and carbon fiber reinforcement, the Micro Owl design is based on the owls airfoil development with large wing area resulting in low wing loading and a low aspect ratio, which contributes to maximum air time allowing slow graceful flight. Perfect for close proximity flying ( backyard flying ) with over 10 minutes of joyous flight time on a single battery charge.  Using a 5 inch propeller coupled with a micro 2gram 50000Rpm geared motor which provides unlimited vertical climb on a 1s 100 to 150mah li-po battery.
If you choose to fly your Micro Owl as a glider without a motor, your owl will weight only 14 grams, perfect for that gentle ridge lift and slope gliding, slope soaring, even on a shallow embankment she will take flight with ease.
Streamline Wing Design
Very important part of an aircraft airfoil/wing design ( especially gliders ) is the connection of the leading edge with the trailing edge. An ultra thin trailing edge provided a smoother lateral airflow. In the camber of a barn owls wing we will notice the upper and lower surfaces must come together in a thin junction at the trailing edge of the wing where the air stream connects after having been separated at the leading edge.

Your Micro Owl comes with a step by step HD video build guide, providing simple and easy way to learn and follow directions building your owl from start to finish.

Specifications:
weight: 24 grams (.84 oz) +-
wingspan: 17" inches (431 mm)
wing area: 51.54 in²
Control : 2ch rudder/elevator
Battery : 100 – 180mAh 1s
Receiver : AR6400
Propeller: 5.4″x3
Assembly : Easy ( step by step HD video build guide )
Skill Level : Hobby Enthusiasts
Wind Cond : 0-10mph
Micro Owl Package Options
Short Kit:
Short Kit includes all laser cut contest balsa ribs, fuselage, birch wood 6x support ribs and 2x 1/16 balsa wood wing spar. Short kits are perfect if you wish to build a new micro owl with existing parts.
Kit Pack: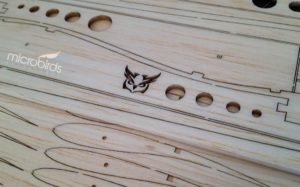 Kit pack is perfect for free flight setup, or if you already have all electronics or wish to integrate your own flight pack. Kit pack includes contest grade ultralight precision laser cut airfoil ribs/fuselage/ tail feathers/control horns, 3x laser cut birch rib support brace, carbon fiber reinforcements, tissue paper for covering wings, shrink tubing, guide rod tubes, carbon push rods, double sided mount tape, velcro, Z bends
Power Pack:
Power Pack includes everything in Kit Pack plus a 2 gram micro geared motor, 180mAh 1s lipo battery, ultralight propeller,  transparent laminating film to cover wings and tail
Ultra Pack
Ultra Pack includes everything in Kit Pack and Power Pack  plus a micro DSM2 Receiver/servos (AR6400 ), Solite ultralight lamination film Trim ( color of  your choice ). Motor Upgrade. Motor upgrade will provide more power to your owl, perfect for windy days and/or aerobatics
Electronics:
Battery Charger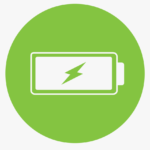 To re-charge your lipo batteries, use any lipo charger that offers a 1s charging capability at .1 to .2 amps. For example, the micro Owl uses a 1s 150mAh lipo, so we want a charger that will charge at .1 to .2amps. If you charge your battery above .2 amps, charging will be a lot faster but battery power will weaken slowly after a few chargers. It is important to charge your battery using the correct amperage. Click here for more information on battery chargers.
Tools needed to complete the Owl
1. Medium CA glue and Thin CA glue Click here for reference
2. gorilla glue ( expandable) Click here for reference
3. Painters tape Click here for reference
4. Sand paper ( any grit )
5. Scissors
6. Xacto blade ( sharp with many tips to replace )
7. Heat iron (  optional for lamination covering ) Click here for reference
8. Scotch tape
9. Needle nose pliers
10. Ruler
11. Glue Stick ( tissue covering wings ) Click here for reference
11. One free afternoon 🙂
Flight footage of the Micro Owl
Covering the wings of your Micro Owl
To cover the balsa ribbed wings on the Micro Owl, light weight colored tissue paper is used. Included in the kit you will find 4 white pieces to cover both wing panels and random trim colors for counter balance and esthetics.
Optional wing covering method

If you live in a humid environment or simply want stronger structural wings,  alternative and recommended method to cover your owls  wings can be used with light weight lamination e.g Solite film. Standard PET transparent laminating film can also be used which comes with your Power Pack kit.
To cover the wings of your owl, a heat iron is used. Mini heat irons work best with variable heat adjustment. Few brand names to choose from that may be purchased from ebay or amazon are: Clover Mini iron ii, Mini plancha para patch, Mini-Bügeleisen MB-3415, Ming Yang sealing tool Large heat iron/sealing iron will work as well, make sure to use low heat. Both irons must have cloth sock on head to prevent iron from sticking to lamination film. Regular cotton sock can be wrapped around head of iron with thread.
Shipping:
US shipping: $6.89
International shipping: $19
All orders are shipped within a two day period of placing order.
All US shipping include tracking number
International shipping includes customs number
Micro Owl
Average rating:
4 reviews
Oct 16, 2021
Love my Owl
what a fantastic little flyer, i would like to thank you for creating such a wonderful little toy for this old man Benny
Jun 11, 2021
Another fantastic product form microbirds. They really stepped it up with their micro line of RC. This is a great little back yard flyer indeed, Great customer support and spares availability ( I crash a lot). If this is the future of the company, they are going in the right direction with their unique air ships.
After the initial setup it's flight is easy and responsive. It flew very stable in a light wind but prefers no wind at all and remember to use as little travel adjust on rudder especially because the controls are very sensitive and you need very little joystick movement to make the owl turn. in fact too much travel and your owl will be out of control, just a side note.
Jan 31, 2021
Micro Owl
The Micro Owl for Microbirds was great fun to build. The the Ultra Pak option was attractively packaged and meticulously assembled. It included everything needed to complete the electric powered 3 channel fun flyer. Motor, propeller, receiver, battery, covering materials and step by step video instructions make this kit about as complete as one can be. Quality, laser cut balsa and separately packaged components made it easy to identify and properly assemble the parts. . I have had the pleasure of building and flying several Microbirds kits and can't wait for the maiden voyage for this one.. I highly recommend Microbirds. Quality products and outstanding customer service make it a pleasure to do business with them and the airplanes perform excellently. I enjoyed this build so much that I am actually a little sad that it ended! Now another kind of fun begins!
Jan 29, 2021
Here's my review of the Micro Owl RC Airplane
The kit arrived without damage and upon opening, all the components were intact and neatly packed. The kit came with high quality balsa, carbon rods, all necessary accessories and even a beautiful sketch and picture of the completed airplane.
There was a slip of paper in the kit that provided a link to the easy to follow, step-by-step video build guide. I was sure to watch the entire build guide before I started the kit to make sure assembly went as smooth as possible. The plane took a little over 4.5 hours for me to complete. I hit a snag while trying to apply the included Solite lamination film (I ordered the ultra pack which included my choice of Solite film). I could not get it to properly adhere to the airframe. I e-mailed the help department at Microbirds and I received a prompt response within a couple hours. They explained how to properly adhere the Solite film and even updated the build guide with a step-by-step how to video the same evening! That is outstanding customer service. I was very happy I didn't have to wait around until the next evening to complete my airplane. The build went very smooth and was a joy to put together. If you have built a couple Guillows balsa planes, you can easily assemble the Micro Owl in an afternoon with the proper tools at hand. My Micro Owl came out to weighing just 18 grams (.63oz) without battery.
I had to wait a couple of weeks to maiden since it's been relatively windy lately. Today wind was around 2mph gusting to 5mph so I decided to go fly. It flies like a dream. It needed a touch of down trim and that was all it needed for graceful, stable, fun flying! I brought five 150mah lipos to my field for a total of over 30 mins of flight time at about half throttle. The instructions recommends calm conditions for best performance and claims it can handle up to 10mph winds. I can confirm it handles 5mph winds like a champ. I'm sure in totally calm conditions I can get over 9 minutes of flight time on a single 150mah battery. It was a blast to fly and I cannot wait to go fly it again and again. I cannot recommend this kit enough and the customer service is the best you can ask for. I plan to buy at least one more Micro Owl. Easy to build and a blast to fly. 10/10.