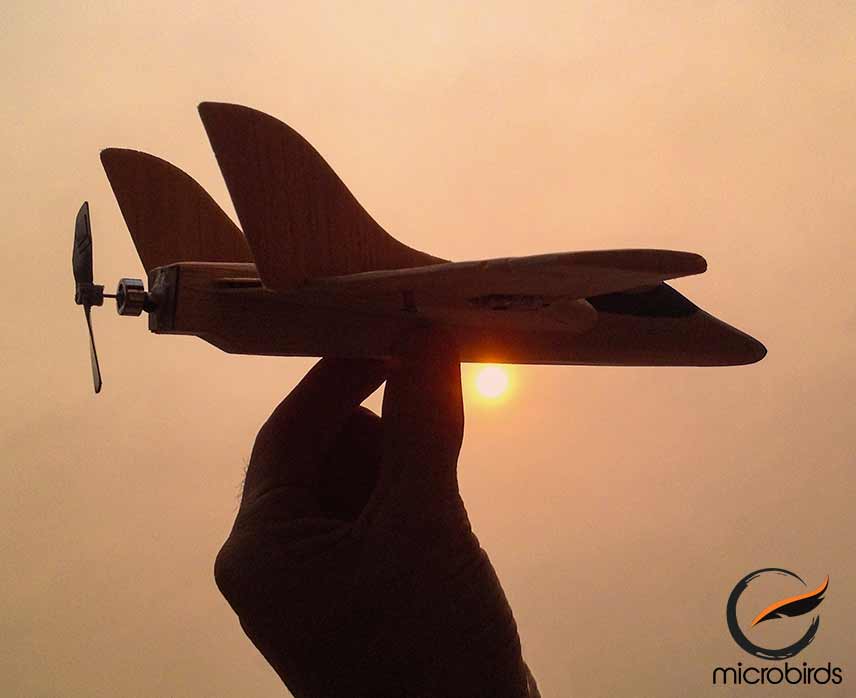 Most radio control airplane enthusiast and builders enjoy adding characteristics and detailed work to make their flying models appear more realistic and scale like. But my passion has always been to flow my energy into smaller scale RC airplanes. Some call these micro, some call it mini and some call it nano. Building smaller model aircrafts typically demand more concentration and precision than larger RC birds, at least in my opinion. Oh and pristine 20/20 eye sight.
Here below is a scaled down micro RC jet designed based on the famous and ever so graceful and fast flying Multiplex Funjet Ultra 2. This mini project was challenging but yet extremely fun to tackle. Using the exact dimensions of the funjet, including its airfoil, i was able to construct a 10″ wingspan micro funjet using balsa wood and carbon fiber. The results came out quite impressive with a final flying weight of 24 grams using a 1s 150mah lipo battery and a mini 2gram brushless outrunner motor.
Follow me on social media

here are some pictures below of this here Micro Funjet Ultra 2.
Don't forget to subscribe to my Youtube channel to get informed on new RC video uploads.

A few different glue types were used for this micro jet project, including cyanoacrylate (CA super glue) thin and medium, small amount of gorilla glue for the motor mount. I utilized thin CA glue for most of the project as thin CA is perfect to fill in gaps for instant cure over contest balsa wood joints. Medium CA glue was used to join wings to the fuse and other areas where thin CA would otherwise run too deep in the wood.
The wings are hollow with 3 airfoil ribs, root chord foil, tip chord foil and center wing, this method is to keep the micro jet as light as possible. The fuselage is also hollow using 4 balsa panels 1/16 of the inch balsa and 1/32 of an inch balsa to cover the top and bottom of the wings and fuse.