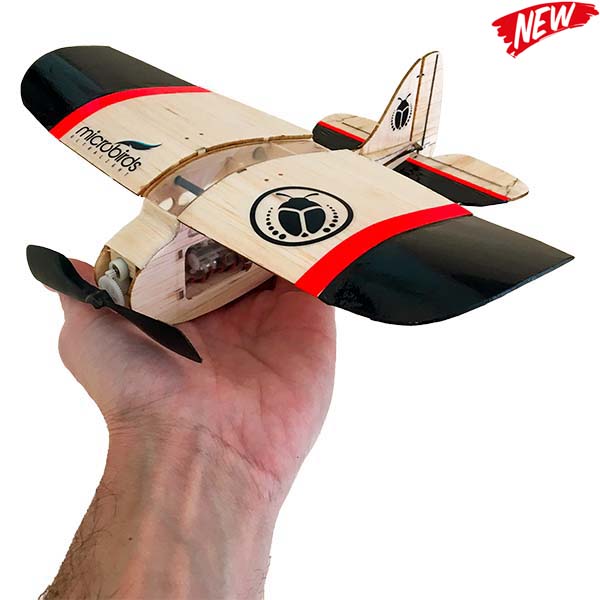 Micro Beetle – Pocket Size Electric Radio Control Micro RC Flyer
BUILD IT DESIGN IT FLY IT!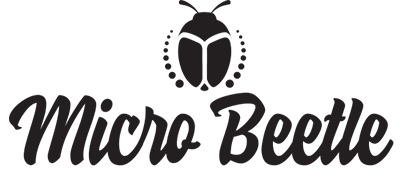 Translating nature's strategies into design

No other insect in the world can be found in such a variety of shapes, sizes and color like the beetle. Beetles are strong fliers over short distances with a stubby body and  two pairs of wings.
I have always been fascinated by wild life on our planet, with such complex assortment of insects and birds. 15 years of macro photography has helped me see beauty everywhere I look, in all the places I used to ignore. It has brought me into the moment and fills me with peace, as though meditating. Photographing and studying these tiny flying wonders around us, especially beetles and their unique flight characteristics has provided me the knowledge and template to design this super cute, super stable and fun 3 Channel radio controlled micro flying beetle.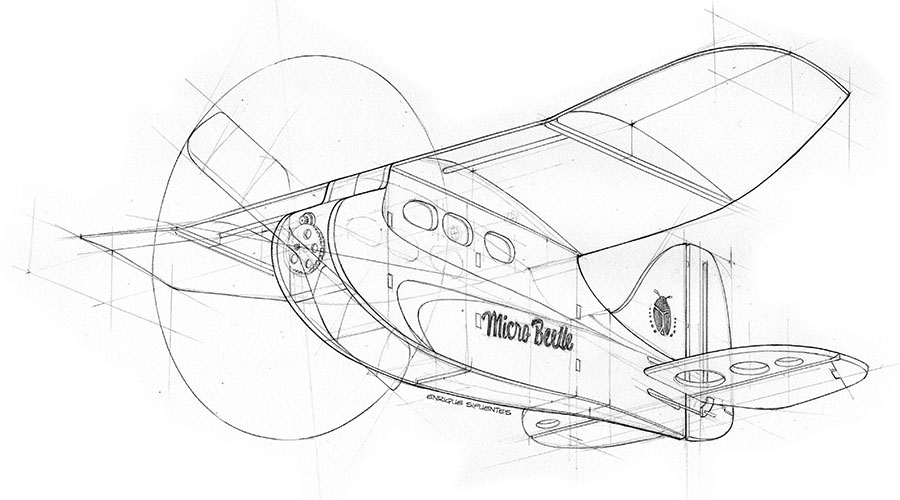 The Micro Beetle has a wingspan of ONLY 10 inches, possibly worlds lightest and shortest wing span RC airplane. The detachable wings of the beetle provides easy transport along with the ability for the wings to detach upon an accidental crash, protecting the little bug from breakage. With a high wing configuration and a flying weight of only +-20 grams, the Micro Beetle flies through the air with such stability, one would only imagine how such a micro sized ship has the ability to soar the skies with such grace.
This little flying insect is sure to bring joy in the hands of RC enthusiasts, certainly an attention grabber.

Ultralight flying weight of only 20 – 24 grams, this Micro Beetle is laser cut using ultra light contest balsa wood and carbon fiber reinforcements.  Virtually indestructible, the Micro Beetle uses a 4 inch propeller coupled with a micro 2gram 50000Rpm geared motor which provides unlimited vertical climb on a 1s 150mah li-po battery, providing 8 minutes of flight time on a single charge.
 Micro Beetle Flight Footage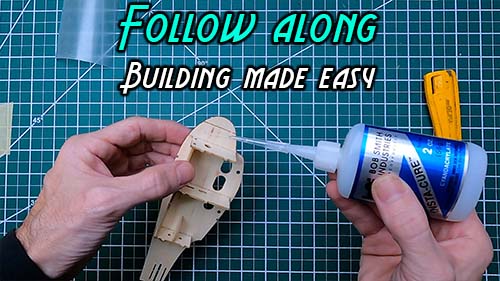 Your Micro Beetle comes with a step by step HD video build guide, providing simple and easy way to learn and follow directions building your beetle from start to finish.
Specifications:
weight: 20-24 grams
wingspan: 9.6" inches (246 mm)
wing area: 32 in²
Control : 3ch rudder/elevator/motor
Battery : 150 mAh 1s
Receiver : AR6400 (RX244)
Propeller: 4.5 x 3 ultralight
Assembly : Easy ( step by step HD video build guide )
Skill Level : Hobby Enthusiasts
Wind Cond : 0-2mph
Micro Beetle Package Options
Kit Pack:

Kit pack is perfect if you already have all electronics or wish to integrate your own flight pack, rubber band powered conversion etc. Kit pack includes contest grade precision laser cut wings/fuselage/ tail feathers, control horns, carbon fiber reinforcements, shrink tubing, double sided mount tape, velcro, Z bends, neodymium micro magnets, magnet support beams, motor mount, ultra thin CA glue nozzle.
Power Pack:
Power Pack includes everything in Kit Pack plus a 2 gram micro geared motor, 150mAh 1s lipo battery, ultralight propeller, ultralight transparent laminating film to cover elevator, bright yellow domestic tissue wing covering.
Ultra Pack:
Ultra Pack includes everything in Kit Pack and Power Pack  plus a micro DSM2 Receiver/servos (AR6400 RX244 ), ultralight bright multi-color Sticker films. Motor upgrade. Motor upgrade will provide more power to your beetle.
Electronics:
Battery Charger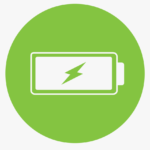 To re-charge your lipo batteries, use any lipo charger that offers a 1s charging capability at .1 to .2 amps. Click here for more information on battery chargers.
Tools needed to complete the Beetle
1. Medium CA glue and Thin CA glue Click here for reference
2. Painters tape Click here for reference
3. Sand paper ( any grit )
4. Scissors
5. Xacto blade ( sharp with many tips to replace )
6. Scotch tape
7. Tweezers
8. Ruler
9. One free afternoon 🙂
Shipping:
US shipping: $6.89
International shipping: $19
All orders are shipped within a two day period of placing order.
All US shipping include tracking number
International shipping includes customs number
RC Gliders Radio Control DLG Micro Gliders Airplane Kits Balsa Wood
Average rating:
2 reviews
Jul 8, 2022
i am enjoying flying my little beetle in the back yard, thank you MB for a great design and hoping to build the bigger version of the beetle in the near future, please 🙂
Jul 1, 2022
an absolute joy to build fly and add to my micro fleet