Feather

²

Squared Micro DLG Glider Kit Airplane – Hobby Grade
ULTRALIGHT Thermal King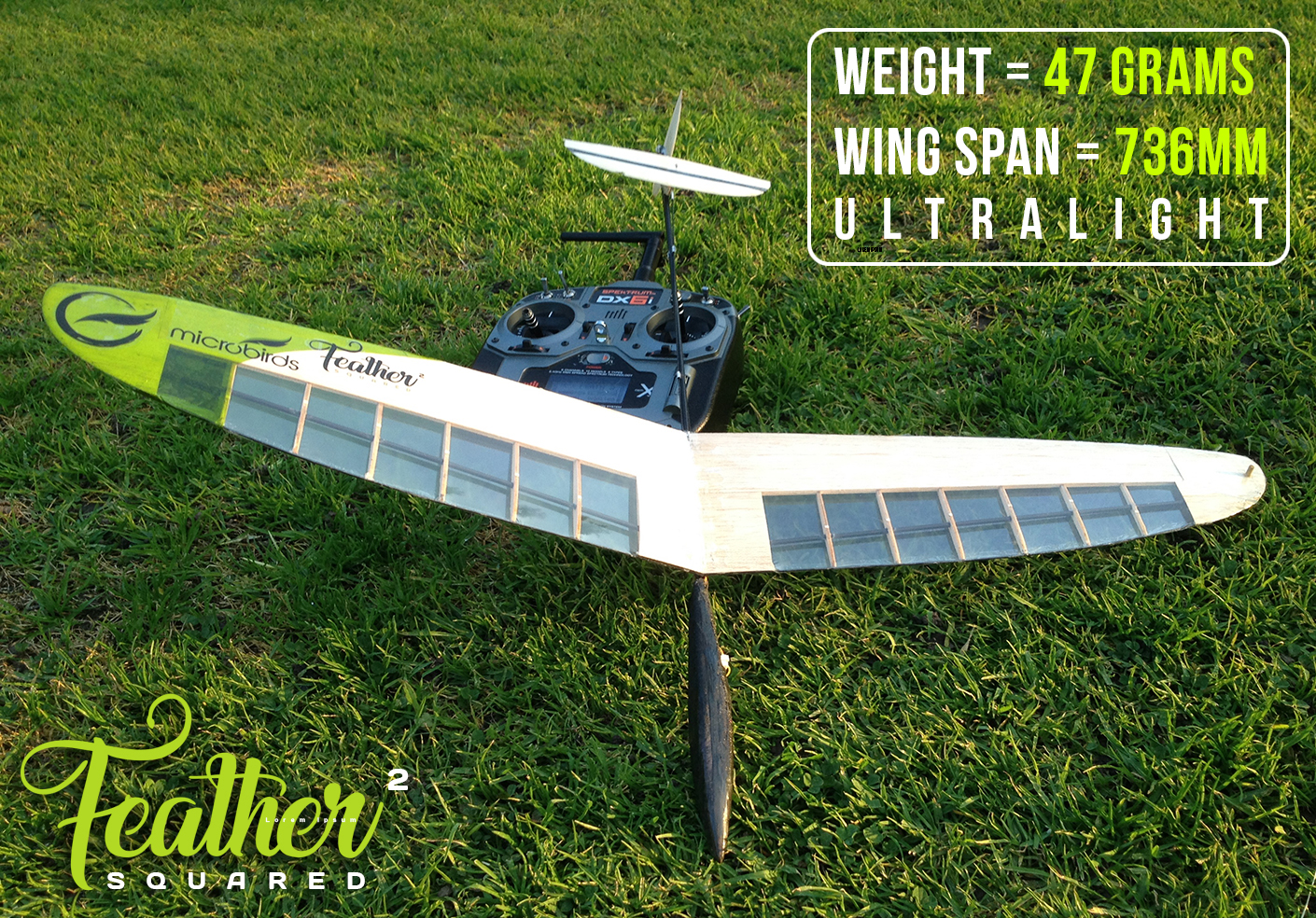 In the wonderful world of Radio Control, there has never been an RC Glider this scale/size that will outperform even your greatest expectations. This might be a bold statement but I stand by my designs with great pride. The Feather Squared is a 28.5″ Micro DLG Discus Launch RC Glider kit constructed with balsa wood and carbon fiber reinforcements. With a tender weight of only 43 to 50grams including battery, this light weight machine will rise and glide the heavens above catching thermals on a nice warm sunny day. Its light weight construction and special under chambered airfoil design provides an amazing lift characteristics. Even with the most gentle head winds, you will be surprised how such a small RC glider performs quite similar to that of its 1 meter predecessor.
The Feather² Squared ultralight weight signature and robust carbon fiber design allows for even the hardest landings without even a scratch or dent. This will provide a great learning tool if you are new to the world of radio control gliders.
The Feather² Squared is a kit version that comes with a step by step video tutorial build guide. This makes for a very simple way to not only learning new techniques, but also a very simple and direct way to follow instructions and finishing your Feather² glider. Over 18 years of building and flying airplanes with an Aerospace and Aeronautical Engineering background, I have mastered the art of flight and R/C Model Aircraft and Aerodynamics.
The Feather² Squared comes with precision laser cut airfoil ribs, tail feathers (elevator and rudder ) hinge line pre-cut. Carbon fiber main fuselage, carbon fiber leading edge and wing spars. Comes with all the accessories needed to complete the build. The Feather Squared is a discus launch glider or DLG glider, holding the wing tip launch peg will allow an amazing and fun launch of the glider into the sky above 80 to 150 feet.
Specifications

Wing-span : 28.5″ (736mm)
Wing-area : 113 sq/in.
Wing-loading : 1.89 oz./sq.ft
Weight : 43-47 grams+-
Control : 2ch rudder/elevator
Manufacturer : MicroBirds.com
Fuselage : Carbon Tube
Wings : Balsa Wood
Version : Kit
Battery : 150mAh 1s
Receiver : 2-4ch micro
Assembly : Easy
Skill Level : Everyone/DLG +
Wind Cond. : 0-8mph