Feather² Squared
UltraLight Micro F3k DLG Glider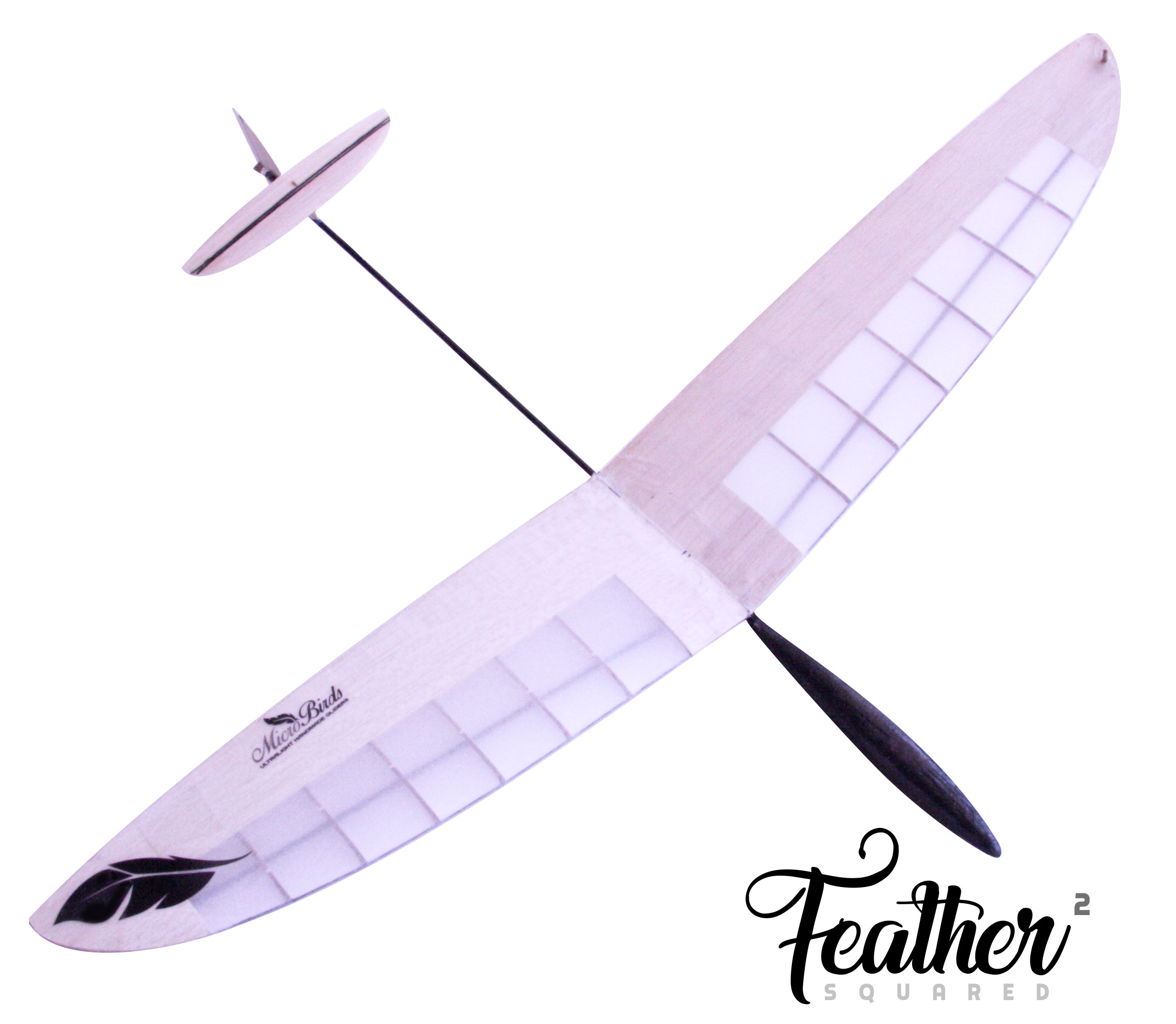 Take fanciful flight with this ultra-light-weight micro radio control RC DLG glider. Experience the unique pleasure of taking full control of this slim 43+- gram balsa and carbon fiber model directing flight straight into thermals effortlessly. The Feather² was designed with simplicity in mind, using under chambered airfoil section, super thin trailing edge reversed d-box design to make the model more sensitive to weak thermals . Using 10 airfoil ribs along each wing panel, with the last two foils slightly modified for a slight wing twist change (washout) allowing for better lateral airflow, this improves energy retention and over all provides a floaty aircraft, putting a whole new meaning to "rising to the occasion". Practically unbreakable, the Feather's ultralight signature weight and carbon fiber reinforcements allows for even the hardest crash landings without a single scratch or dent.
The Feather² Squared glider comes with laser cut ribs, laser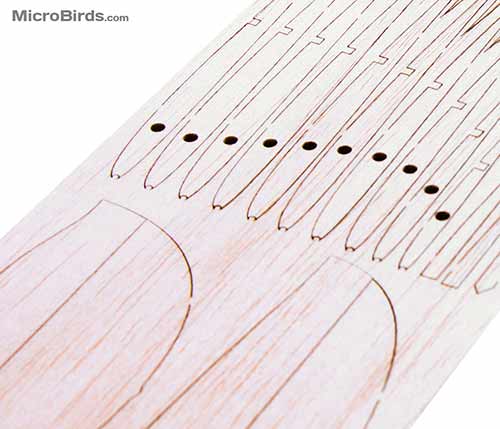 cut tail feathers ( rudder & elevator ), laser cut control horns and launch peg housing. Main boom is carbon fiber, with carbon fiber pushrods, carbon fiber leading edge and carbon fiber main wing spars. Both tail feathers have pre-cut control horn slots and hinge line.
No other radio control glider this size and scale will perform like the Feather² Squared. At a tender weight of 43-47 grams, attractive design with built-up wing ribs, catching thermals at your local park has never been easier. Flying the Feather² glider can be a very peaceful and relaxing experience. Gliding at slow speeds gives stability and plenty of time to react.
To cover the balsa ribbed wings on the Feather² Glider, light weight colored tissue paper is used. Included in the kit you will find 4 white pieces to cover both wing panels and random trim colors for counter balance and esthetics. These are .8 grams per sheet ( 4x = 3.2grams ). Your other options are Esaki Japanese Tissue or Gampi Japanese Tissue, these are .6 grams per sheet ( 4x = 2.4grams).
If you live in a humid environment, tissue covered wings might be an issue. Two optional steps can be taken. To prevent the tissue from wrinkling due to dew, clear acrylic spry can be sprayed over tissue or using dope on the tissue. The second option cane be to cover the wings using light weight lamination e.g Solite film. This will increase the weight of the glider by +- 3 grams. You can purchase Solite Film here.
The Feather² Squared is a high performance discus launch micro F3k glider packed into a micro size floater. The perfect size trunk glider easy to carry that will soar in virtually any terrain. Over 40 minutes of continues flight on a single 1s 150mAh lipo battery.
Feather Flight Videos
Specifications:
| | |
| --- | --- |
| Wing-span : | 28.5″ (736mm) |
| Wing-area : | 113 sq/in. |
| Wing-loading : | 1.89 oz./sq.ft |
| Weight : | 43-47 grams+- |
| Control : | 2ch rudder/elevator |
| Manufacturer : | MicroBirds |
| Fuselage : | Carbon Tube |
| Wings : | Balsa Wood |
| Version : | Kit |
| Battery : | 150mAh 1s |
| Receiver : | 2-4ch micro |
| Assembly : | Easy |
| Skill Level : | Everyone/DLG + |
| Wind Cond : | 0-10mph |
Kit Contents:

Laser cut balsa airfoil ribs | Laser cut tail feathers | Laser cut control horns | Laser cut launch peg housing | 2x thin balsa sheets | Balsa secondary d-box spar | 2x Carbon leading edge rods | 2x Carbon fiber wing spars | 2x Carbon fiber push rods | 3x Carbon fiber tow strands | XPS foam pod/carbon tissue | Glass Fiber sheets | Carbon boom fuselage | Various | small parts for linkage | 4x Shrink tubes | 3x battery and servo plugs | Micro Tip CA glue nozzle tip | 4x white tissue for covering | Glue stick | 1x Mini brush | Step by step video build guide | Blueprint layout plan
Electronics:
For optimal performance, 1.7 gram micro servos should be used coupled with 1.5 to 2 gram micro receiver, making sure receiver and servo connection are micro JST 1.25mm socket. If using Spektrum DSM radio system and JR, proper electronics are listed below. For all other radio systems, contact me for more information.
Required to complete:
Tools to finish glider:
The Feather Squared come with a step by step HD video build guide so this makes it easy for anyone to follow directions, including kids.
1. Medium CA glue ( thin CA glue optional but helpful )
2. gorilla glue ( expandable)
3. painters tape
4. sand paper
5. scissors
6. Xacto blade
7. 30min or 24hr epoxy
8. scotch tape
9. needle nose pliers
10. Ruler
11. One free afternoon 🙂

Shipping:
US shipping: $6.89
International shipping: $19
All orders are shipped within a two day period of placing order.
All US shipping include tracking number
International shipping includes customs number
Full refund will be issued if only package is lost or not delivered

Feather² Squared Micro F3K UltraLight DLG RC Glider Kit