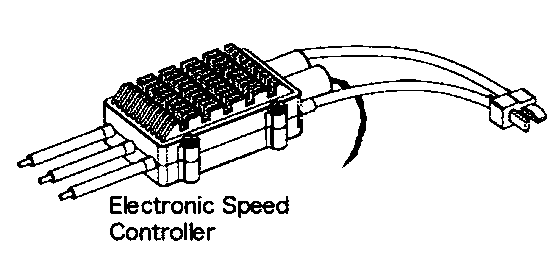 Electronic speed controllers AKA (ESC) where power from a battery is directed to the speed controller and it precisely times pulses that are sent via three wires to parts of the rotating stator. By sending pulses on the three different wires we can get the motor to turn and, if we change the order of any two of the three wires we can get the motor to turn in the opposite direction.
12A BLHELI ESC Speed Controller Brushless ESC
These little ESC's are small, light weight and powerful for your micro RC project. These little speed controllers can be used up to a 3s lipo battery.
Highest efficiency 100% N-FET design.
Highest accuracy with Crystal Oscillator
range.Max cont. current: 12A
Peak current: 15A (10s)
Voltage: 2-3S lixx
BEC: 5V/2A
Size: 22x17x7mm
Weight: ~20g
EMAX BLHELI 20A ESC 2-4S Speed Controller
E-Max a name we trust brings you a power house ESC. Rated at 20 amps,
2A 5V BEC for RC Multicopters, drones, airplanes and helicopters.
BelHeli speed controllers provide smooth, linear and precise throttle response. Use this ESC from 2s to 4s lipo battery with burst current of 25A amps.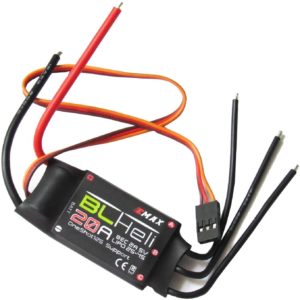 10A Amp Micro ESC Electronic Speed Controller
Flashed with the famous SimonK OpenSource Firmware for super-fast throttle response, which makes your quad copter or RC airplane more responsive and "locked in".
Click here for more info