These micro Blue Bird servos are optimal due to their low weight, high torque and high speed signature running on a single cell 4.8 volt lipo batteries.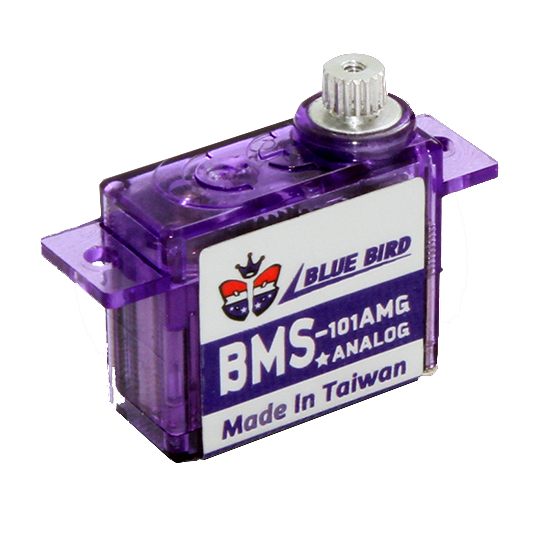 The Blue Bird BMS-101AMG is a coreless micro servo perfect for DLG / HLG / F3K / F3P airplanes, sailplanes and gliders. Weighing at only 4.4grams, these servos offer extremely precise arm movement, precision center positioning makes them ideal for your RC gliders. The BMS-101AMG is self contained with control loop circuitry technology, precise servo position using coreless motors resulting in smoother operation and faster response time.
Gears used for the Blue Bird BMS-101AMG are in fact metal gear. All of the main gears are metal not plastic, again making these optimal against gear stripping and a safer and secure way to fly. Plastic gears strip and wear down causing unexpected accidental crashes. Metal gear servos or MG are crash-proof, and have high gear strength providing the user with peace of mind.
Application
3D Airplane / DLG / HLG / F3K / F3P
Specifications
| | |
| --- | --- |
| Torque At 4.8V | 0.8 kg-cm / 11.1 oz-in |
| Torque At 6.0V | 1.0 kg-cm / 13.9 oz-in |
| Speed At 4.8V | 0.09 sec / 60° |
| Speed At 6.0V | 0.07 sec / 60° |
| Idle Current | 3 mAh @ 4.8~6.0V Stopped |
Power Supply
| | |
| --- | --- |
| Operating Voltage Range | 4.8V ~ 6.0V ( 4 ~ 5 Cell Ni-MH ) |
Micro Servo
| | |
| --- | --- |
| Control System | Analog Controller / Frequency:125Hz / Neutral:1520us |
| Dead Band Width | 0.004ms ( 4us ) |
Mechanical Specifications
| | |
| --- | --- |
| Ball Bearing | N/A |
| Gear | All Metal Gears |
| Motor | Coreless Motor |
| Horn / Gear Spline | 19 Teeth |
Physical Specifications
| | |
| --- | --- |
| Dimension (mm) | 18.6 x 7.6 x 15.7 mm / 0.73 x 0.3 x 0.62 in |
| Weight (gram) | 4.4 ± 0.5 grams / 0.15 oz​ |
| Product Picture / Dimension Sketch | ​ |