The Blue Arrow is by far the strongest and well made corless high output servo for your RC gliders and planes. The Blue Arrow D05010MG DS MG offers an amazing torque of 1kg on a single cell lipo battery, making it ideal for the FireFly 2.0. Keeping in mind these servos are quite fast and will require quick fingers and lots of exponential in your radio. Ideal servo speed for the FirFly 2.0 glider is around .10 to .12
Its weight to torque ratio is among the best in digital servos to date. These servos are mostly used for rc helicopter tail as it has strong holding power and very fast response.
Using a quartz crystal microprocessor, it is digitally configured to provide higher output torque in comparison to other servos this size, making this servo my top choice in rc gliders and rc airplanes.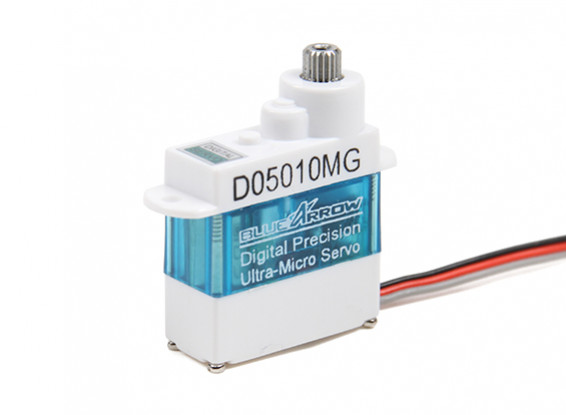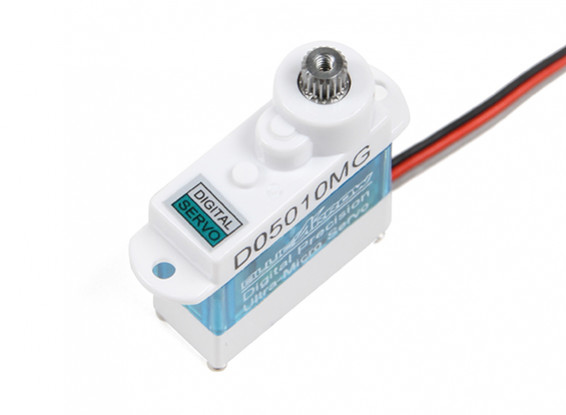 Features:
Quartz crystal microprocessor V3
4pcs MOSFET digital driver circuit
Higher output torque
High-performance coreless motor
Aluminum alloy gears and metal ball bearing
Ultra-Micro Servo

Specs:
Torque: 1.0kg ~ 1.3kg
Speed: 0.07 ~ 0.09sec / 60deg
Weight: 5.7g (.20oz)
Voltage: 3.7~5.0V
Size: 27×8.7x22mm
Plug: JR type
Spline Count: 20
Gear Type: Digital
Motor: Coreless
Gear Material: Motor