RX410 Micro DSMx Receiver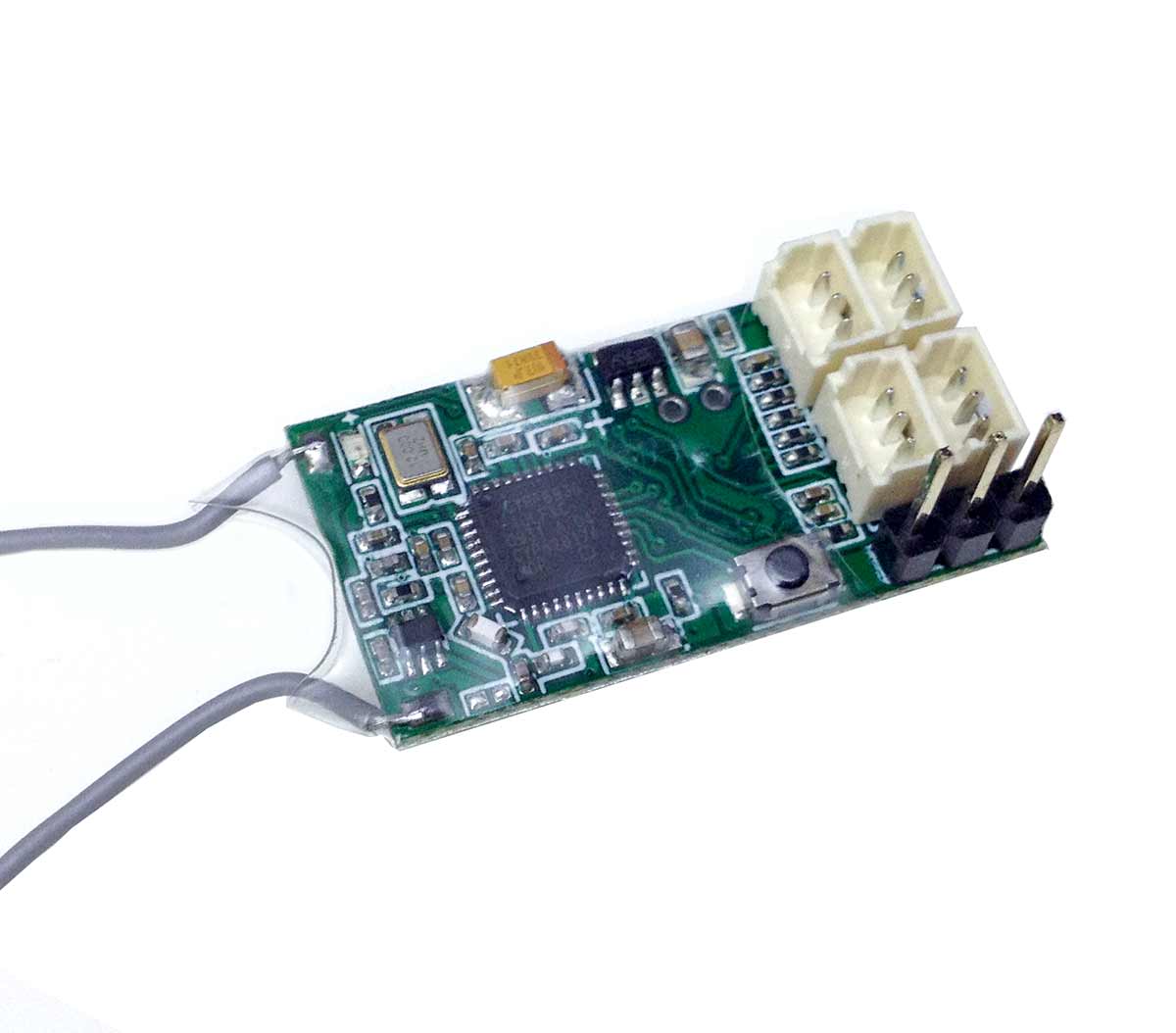 Mini Receiver 2.4Ghz 4CH RX410 DSMX DSM2 format for Micro indoor airplane/Heli. Yet another nano DSM/DSMx/DSM2 receiver compatible with your Spektrum Tx. 4Channel+ PPM Port
Dimensions (W x Lx H): 29x 15×4 mm  Weight:  2g  Voltage Range: 3.3-12v  HV Pin spacing for channel/servo connector : 1.25mm
Channel: 4Channel+ PPM Port
Modulation:  DSM2/DSMX
Band:  2.4GHz
Dimensions (W x Lx H): 29x 15×4 mm
Weight:  2g
Voltage Range: 3.3-12v (HV)
Brown-Out Voltage: 4.0v  (Always supply power above this voltage)
Expected Range: 800m (tested with Spektrum DX6i DX8 and JR DSX9)
Pin spacing for channel/servo connector : 1.25mm
Features:
4channels with PPM Out
Patent pending Model Match prevents flying a model using the wrong model memory (feature does not work with module systems)
Servo Sync (feature does not work with module systems)
Preset fail safe system
Quick Connect
Compatibility (Spectrum and JR DSM2 /DSMX): DX6I,DX7,DX8, DSX7,DSX9 DSX11
Also known as the EDCON CM410X 2.4GHZ 4CH JST Pin PPM Output DSM Receiver Compatible with JR and Spektrum Remote control Radio Systems
How to Bind the RX410:
Binding plug is not needed for this receiver.
The very first step is to pick an empty channel in your radio, then turn off radio.
Press and hold the small bind button on the receiver. While holding, connect your battery into one of the empty channels. While still holding bind button, press and hold bind button on your radio and turn on your radio at the same time. Wait until rapidly blinking orange light turns solid on the receiver. Bind will be complete.