Offering a unique airfoil with slight reflex which will slice and dice through the sky with stability and speed.

Worlds first and only 3 channel (431mm) 17″ wing span Micro Falcon Electric RC jet that has been designed first and foremost with stability in mind, with the ability to reach speeds up to 75mph slicing through space like butter. If you are an adrenaline junky, this little machine will inject a rush of titillation right down your spine. Fly with two different variants: 4S 450mAh setup will weigh the jet roughly 133 grams flying weight ( no need to register with FAA ), and if you wish to fly a little slower in a closer proximity and still experience that rush, a 3S 300mAh setup offers a 99 grams flying weight, a super fast, super stable and funtastic flying experience.
This Micro Falcon Jet is a phenomenal flyer with extreme performance, stability and excellent agility to provide a graceful display of aerobatics in the air.
Guaranteed to turn heads at your local RC flying field.
Features:
• 3s 300mAh fun flyer or 4s 450mAh speed demon
• XPS foam durable wings
• XPS foam fuselage
• pre-cut wing spar slot
• carbon fiber push rods
• carbon fiber main spar
• ultra thin glass fiber cloth ( for ridged ailerons )
• 2x laser cut motor mounts ( 3s setup and 4s setup )
• 2x laser cut control horns
• 4x neodymium magnets ( hatch lock)
• easy step by step video build guide
• extremely simple and fast building process
Specs:
Wingspan: 431 ( 17″)
Length: 303mm (13″)
Propeller: 3025 (3″ x 2.5″) GEMFAN
Flying Weight: 99 grams 3s setup – 133 grams 4s setup
Motor: MAMBA TOKA 1206 6000kv 3s setup – EMAX RS1306 4000kv 4s setup
ESC: 12A 3s setup – 20A 4s setup
Servo: 2.5gram micro 3s setup – 4.5gram micro 4s setup
Battery: 300mAh 3s – 450mah 4s
Skill level: 4s setup advanced – 3s setup medium ( should be comfortable flying delta wing airplanes)


Your Micro Falcon Jet comes with a step by step HD video build guide, providing simple and easy way to learn and follow directions building your RC Jet from start to finish.
Micro Falcon Jet Package Options
Kit Pack:
Micro Falcon Jet Kit includes 4 XPS airfoiled wing panels with pre-cut wing spar slots, 4x  XPS fuselage panels, 3mm carbon fiber wing spar, 2x carbon fiber pushrods, 2x laser cut control horns Z bends and shrink tubing, 2 different size motor mounts for 3s setup or 4s setup, 4x mini magnets for hatch lock, 2x ultra thin glass fiber cloth for ailerons, transparent laminating film to cover wings. Brush glue applicator. Accessories
Flight Pack:
Flight Package includes everything in Kit Pack plus a 2x 2.5 gram micro servos or 2x 4.5g servos, 300mAh 3s battery or 450mAh 4s battery, 12A Emax ESC or 20Amp SimonK ESC, Gemfan 3×2.5 propeller, 4000kv Emax brushless motor or 6000kv Mamba Toka brushless motor. Micro JST connectors. XT30 connectors. Your color choice of ultralight decal stickers. Your color choice of ultralight Solite wing covering film.
Required:
4 Channel or greater transmitter and receiver. Click here to see the Spektrum receiver we use for the Falcon Jet.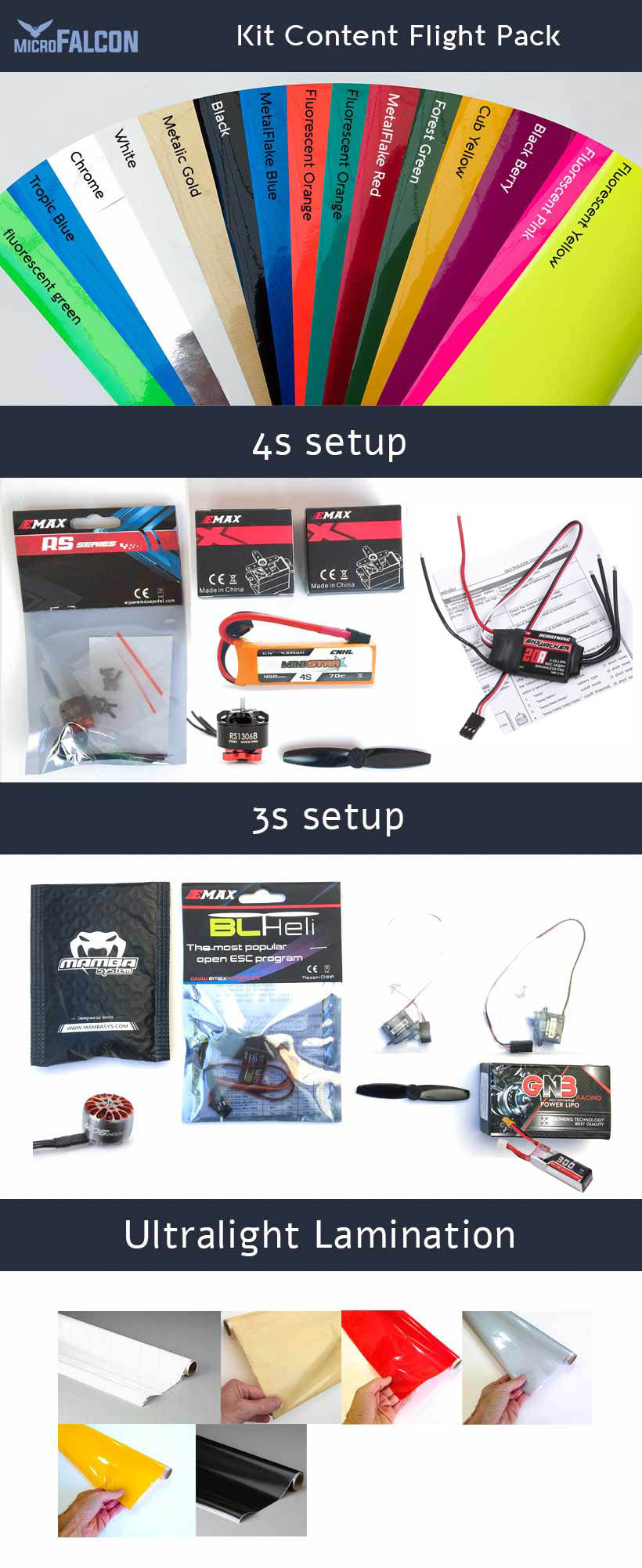 Battery Charger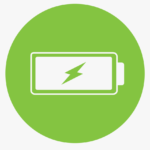 To re-charge your lipo batteries, use any lipo charger that offers a 3s and 4s charging capability. Charging wire plugs included with your Falcon kit.
Here is a link to an affordable lipo charger B6 lipo charger
Tools needed to complete the Micro Jet

1. Thin CA glue Click here for reference
2. Gorilla glue ( expandable) Click here for reference
3. Painters tape Click here for reference
4. Sand paper ( any grit )
5. Scissors
6. Xacto blade
7. Heat iron (  optional for lamination covering ) Click here for reference
8. Blenderm Tape Click here for reference
10. Ruler
11. 30min epoxy Click here for reference
12. microballoons filler ( optional ) Click here for reference
13. Soldering Iron ( optional, there will be red JST plugs included in your kit for battery to ESC to be twisted together if you choose not to solder. For 3s setup only )
Flight footage of the Micro Jet
Covering the wings of your Micro Jet
To cover the wings on your Micro Falcon Jet, you will have a few options. Kit pack come with PET transparent lamination film. This film is applied using a heat iron explained below. Flight pack will come with your choice of Solite lamination film plus your choice of ultralight decal stickers. You may also leave your wings uncovered if you wish to keep the jet light weight to be flown only in calm windless conditions.
Optional wing covering method

To cover the wings of your micro Jet, a heat iron is used. Mini heat irons work best with variable heat adjustment. Few brand names to choose from that may be purchased from ebay or amazon are: Clover Mini iron ii, Mini plancha para patch, Mini-Bügeleisen MB-3415, Ming Yang sealing tool Large heat iron/sealing iron will work as well, make sure to use low heat. Both irons must have cloth sock on head to prevent iron from sticking to lamination film. Regular cotton sock can be wrapped around head of iron with thread. Further explanation with images will be on the build page.
Shipping:
US shipping: $6.89
International shipping: $19
All orders are shipped within a two day period of placing order.
All US shipping include tracking number
International shipping includes customs number
Free RC FunJet Falcon Electric Jet Plans Build your own RC Airplane with foam