Futaba S3114 Micro High Torque Digital servos
Number one pick for ultra light applications, these Futaba micro digital servos are perfect for the FireFly 2.0 or any other light weight application. These pack a punch with an amazing 1.5 kg-cm of torque for a servo under 7.8 grams. Sure it will add an additional weight of 2 grams to the FireFly glider, but with the adequate power of its torque, this will be a perfect micro servo for the slopes on a single cell lip battery.
Of course with stats as these, comes a price not so friendly for most. These Futaba micro servos will cost roughly $16 a piece.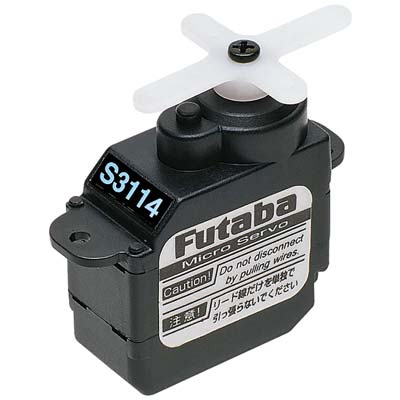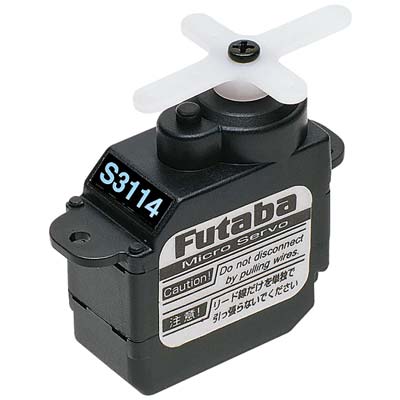 Ideal for electric planes and small electric helis
Nylon gears
One year warranty
Futaba S3114 Micro High Torque Servo
One .91″ x .64″ (23mmx16mm) 4 arm servo horn (comes pre-installed)
One 1.33″ x 1.33″ (34mmx34mm) 4 arm servo horn
Installing in aircraft and connecting to receiver
6V 4.8V
Torque: 24 oz-in (1.7 kg-cm) 21 oz-in (1.5 kg-cm)
Speed: 0.09 sec/60° 0.10 sec/60°
Dimensions: 0.9 x 0.4 x 0.8″ (7/8 x 7/16 x 13/16) (22 x 11 x 20mm)
Weight: .28oz (1/4oz) (7.8g)
Lead Length: 6.5″ (165mm)
Output Spline Diameter: 4mm