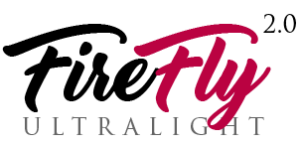 Nature Inspired Precision UltraLight Radio Controlled RC glider
After a very successful launch of the original UltraLight FireFly, the much-awaited FireFly 2.0 is finally here. With some major airfoil adjustments, an aerodynamic inline fuselage that will guarantee a much smoother flight with incredible slow speeds and virtually zero stall characteristics, the perfect recipe for caching thermals with ease.
The combination of the root chord and tip chord airfoil design and enhanced reflex, (auto stable airfoil) allows for a more hands off level flight without the need for heavy ridge lifts or any headwind for that matter.
Total weight of the glider at 80 to 97 grams depending on the amount of glue used and the type of lamination film used for the wings. The wings can be left uncovered as well to save 10+- grams of weight. The FireFly 2.0 uses a single cell ( 1S 300mAh ) Lipo battery to power the receiver and two sub micro 5gram servos with adequate torque of at least 0.82kg.cm on a 4 volt battery. Click here to see servo options for the FireFly.
The FireFly 2.0 is a 32″ inches wingspan DLG, HLG, bungee, slope soaring, thermal catching rc sailplane, designed for ultimate glide time due to its ultralight frame, improved wing area and low renolds number, taking note laminar flow occurs at low reynolds numbers. Gliding at low weight range means you have a better minimal sink, this simple concept has been lost in RC modeling due to heavy molded foams and composite material.
The FireFly 2.0 glider can be flown in 3 different variations.
1. Park DLG glider
2. Slope soaring glider
3. Bungee launch glider
FPV equipment can be added for first person soaring as well
Features
Construction: light weight EXP foam, Carbon Fiber
Radio: any two channel radio with elevon mixing
Motor: no motor required ( motor can be attached for power flight if you wish)
Battery: 1S 300mAh lipo
Specifications:
Wingspan: 32″ (812mm)
Length: 19.5″ (444mm)
Wing Area 212 sq.in.
Wing Loading 2.04 oz./sq.ft.
Flying Weight 3.31oz (94grams) +-
2 channels (elevon mixing)
skill level – DLG or Slope gliding a plus/everyone
Includes:
Both wing panels ( spar slot pre-cut)
2x Carbon spar for wings, 2x pushrods, 1x carbon tail spar
Pod panels & tail ( carbon fiber slot pre-cut)
4x earth magnets ( for hatch)
Molex 2.0 2Pin Cable Male Connector ( for Molex female battery lead, see below )
glass fiber tow
2x laser cut control horns
shrink tubes
z bends
aileron lamination film
bungee launch hook with carbon fiber
one evening of assembly time ( step by step video build guide )
very simple and intuitive build
Required to complete: