Gliders
Micro FlingShot DLG Glider
After a decade of having experience in building airplane kits, my passion grew for gliders. My first DLG glider i purchased was called the TopSky, I flew her many times, learning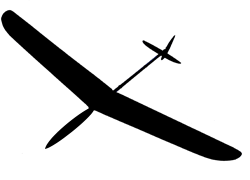 the art of catching thermals and understanding wind flow/direction, the use of the rudder to control yaw, air speed,  increasing lift increases drag, and what have you. These are some basic rules and guidelines i have learned over years of building, flying and now introducing the FlingShot. From concept to development which took many years of trial and error, i am happy to say this little Micro DLG glider can almost perform as well as its full size predecessors, of course in a much smaller package.
The first of its kind with a 24" wingspan 100% hand made using competition balsa wood and high grade super light woven carbon fiber. With a weight of -+43 grams, its light enough to fly at 5 to 10mph winds or even more fun on a warm day whether a cloud is forming or decaying, finding that perfect spot to glide over trees at your local park catching thermals, i must say its a dream.
This micro FlingShot requires no assembly every time you take her to the park. once built, you just charge the battery and off you go. Its small enough to flit in any car, a trunk glider if you will.
Glider Specs
Wing Span @ 24"
Wing Area @ 69.3 sq. in.
Flying Weight @ -+43 grams
Wing Loading @ oz/3.12sq.ft
Airfoil = modified AG45
Construction = competition balsa, high grade carbon boom
Reynolds Number

About
Gliders are and have been truly my addiction ever since I dove deeply into the world of radio controlled toys. In fact, at the age of 5 growing up in the 70's, the only toys I ever played with were paper airplanes, if you call "paper" toys :). Throwing them from our 4 story building, watching it glide across the street, those were magical days, and today even more so with the knowledge and technology and many years of flying RC airplanes and gliders..
Contact
HELLO. HOW CAN WE HELP YOU?
Order
We offer the Micro FlingShot in a RTF option or as a kit you can build with a full users guide.
FlingShot DLG Glider Kit
Precision modified AG45 airfoil 24" competiton balsa wings
Symmetrical airfoil tail feathers: horizontal and vertical (competiton balsa)
Fiberglass cloth
Carbon Fiber Roll Wrapped boom (super light weight)
Carbon fiber push rods 2x
Hand carved foam pod (ultra light weight and durable )
Carbon strips for tail feathers
All essential accessories (carbon launch peg, control horns, shrink tubes etc.)
Requires: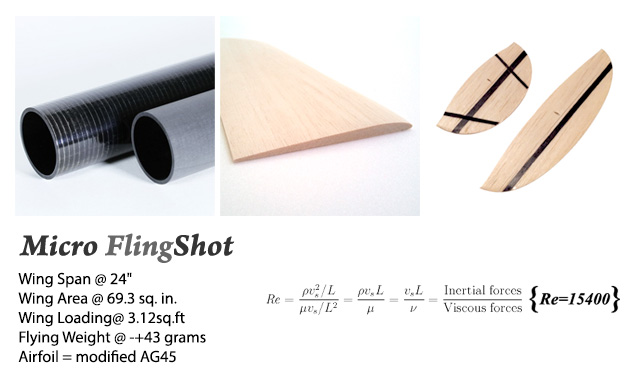 I purchased this gem of a glider last month and i have not flown any of my other planes. This truly is an amazing mini discus launch glider so thank you so much...cheers from NY NY Glen Burrow
I recently was looking to get a small glider for my 13 year old son and ended up buying this slick small dlg glider for myself :).  I have the servos and a spektrum Tx so it was easy for me to get her up quick.  It's fun to launch it and glide the sky, she is truly a floater.  My son loves watching it ( cant really fly this as its fragile and not for kids) Thanks plenty.   Brad Womack CA, SF
Great flier, most certainly one of the best gliders in this size i  have ever flown, all the rest like the E-flite UMX Whipit DLG which is flimsy foam is not even comparable to this little dream, thank you so much
Thank you so very much for the well articulated description and built. love my micro bird

Keep up the good work mate,, I bought 2 of your gliders one converted to Electric and the other just a DLG glider. I must say you have something very special here. On the electric, i stuck a 5gram outrunner motor from hobbyking, she flies amazing but i can see the reason why its best to keep this as a glider, great fun